Celebrity
"Married… With Children" Cast 30 Years Later
By |
1.

Depicting a modern day family on TV isn't a new concept, but only a few fully grasped the chaos that ensues between parents and children. While The Brady Bunch and The Cosby Show often come to mind, it's Married… with Children that shook up the cookie-cutter dynamic.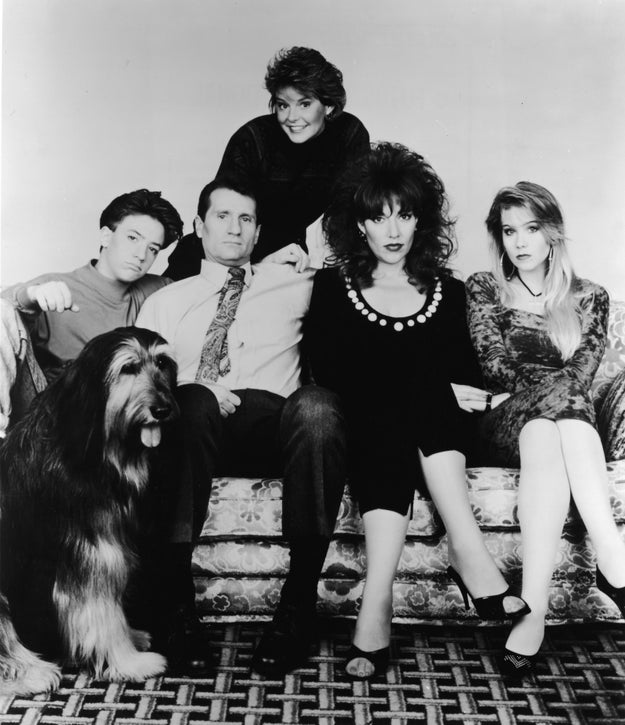 View this image ›
Columbia Tristar / Getty Images
In 1987 the iconic series was introduced to the Bundy family and left a lasting impression for 11 hilarious and controversial seasons.
2.

Ed O'Neill

Ullstein Bild / Getty Images, Frazer Harrison / Getty Images
3.

Ed played the head honcho of the family: Al Bundy.

Fox's 'Married… With Children/ / Via giphy.com

Al is a semi-happily married father of two who often battles with his former glory days as an all-star football player and his current reality of being a women's shoe salesman. His favorite pastimes include going to strip clubs and drinking beer.
4.

Today, you can catch him on the hit series Modern Family as Jay Pritchett.

Again, Ed is playing the patriarch of the family. His life gets a little crazier when he marries his outspoken Colombian wife Gloria and becomes the step-father to her son Manny. The Pritchett family is full of quirky characters.
5.

Katey Sagal

Columbia Pictures / ©Columbia Pictures/Courtesy Everett Collection, Frederick M. Brown / Getty Images
6.

Katey starred as Peggy Bundy, Al's wife and the mother of their two children.

You'd typically find Peggy in a form-fitting outfit, begging for shopping money and refusing to cook a meal or clean the house. Peggy preferred her hair big and her male strippers beefy!
7.

After a successful run on Sons of Anarchy, Katey is now a part of a new CBS sitcom called Superior Donuts.

Katey plays Officer Randy DeLuca. She is one of the many funny characters who visit the local donut shop.
8.

Christina Applegate

Columbia Pictures / ©Columbia Pictures/Courtesy Everett Collection, Frazer Harrison / Getty Images
9.

Christina is well known for her portrayal of daughter Kelly Bundy.

Kelly was a ditzy teen who gave the term "dumb blonde" new meaning. She loved to have a good time, dress provocatively, piss her dad off with her boyfriend choices and annoy her little brother as much as possible.
10.

Nowadays, you can find Christina in a movie near you!

Christina has gone on to star in movies like Anchorman: The Legend of Ron Burgundy (2004), The Sweetest Thing (2002) and Bad Moms (2016).
11.

David Faustino

Time Life Pictures / Getty Images, Ethan Miller / Getty Images
12.

The youngest of the family was Bud Bundy.

Let's face it, Bud had the most sense in the family. When it comes to the ladies, Bud was quite awkward and shy, which is why he would often use his alter ego Grandmaster B to boost his confidence.
13.

David now makes various appearances in TV shows and movies.

David voiced the character of Mako Iwamatsu on the popular animated series The Legend of Korra (2012-2014), as well as, Dreamworks Dragons as Dagur the Deranged (2013-2017.
14.

Amanda Bearse

Time & Life Pictures / Getty Images, Imeh Akpanudosen / Getty Images
15.

Amand played Peggy's best friend and neighbor Marcy Rhoades D'Arcy.

Marcy and Al couldn't stand each other, so she made it her duty to object to any of his crazy schemes. Marcy was also a feminist and an environmentalist who had no problem voicing her opinion on current matters.
16.

Amanda has stayed under the radar in the past few years.

So, here's a memorable scene from the 1985 horror movie Fright Night to remember her by.
17.

Ted McGinley

Ron Galella, Ltd. / WireImage, Alberto E. Rodriguez / Getty Images
18.

Last, but certainly not least, there's Jefferson D'Arcy.

Jefferson is a scam artist who marries Marcy. He's extremely lazy, but managed to use his impeccable good looks to get him out of sticky situations. Al would often try to get Jefferson to take part in his schemes.
19.

Today, you'll find Ted making appearances on various TV shows.

He is known for starring in a number of hit shows like Happy Days, Dynasty, The Love Boat, as well as, Hope & Faith (pictured above). He's guest-starred on popular series like Castle, Mad Men and The Mentalist.
Check out more articles on BuzzFeed.com!
Let's block ads! (Why?)