Celebrity
Chip And Joanna Gaines From "Fixer Upper" Are Having Another Baby
By |
[unable to retrieve full-text content]
Sadly it is not me. I am not the new Gaines child.
Do ya ever sit down for a long binge-watch of Fixer Upper in your sad, cramped New York apartment and think, Man, I wish that was MY life. I wish Chip and Joanna were MY parents and could shiplap the fuck outta my living room.
Instagram: @joannagaines
No? Mmkay, maybe that's just me.
Instagram: @joannagaines
In any case, it turns out the Gaines family is growing — again. The family of six announced on Wednesday that they're adding another kid into the mix.
"Gaines party of 7.. (If you're still confused.. WE ARE PREGNANT) @joannagaines," read the caption on Chip Gaines' Instagram.
Instagram: @chipgaines
In a follow-up post on Facebook, Joanna Gaines shared a video of her ultrasound.
View Video ›
"Chip swears he can already tell it's a boy. Look at the little heartbeat!! 🙌🏽❤️❤️ #5," she captioned the video.
Facebook: video.php
Their other children are Drake, 12, Ella, 11, Duke, 9, and Emmie Kay, 7.
instagram.com
And because Chip is a man for whom the phrase TMI has no meaning, he shared this over Twitter: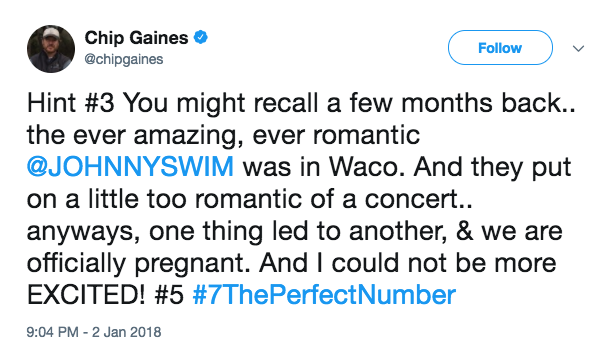 TOO MUCH, CHIP. TOO MUCH.
Twitter: @chipgaines
There were Demo Day jokes.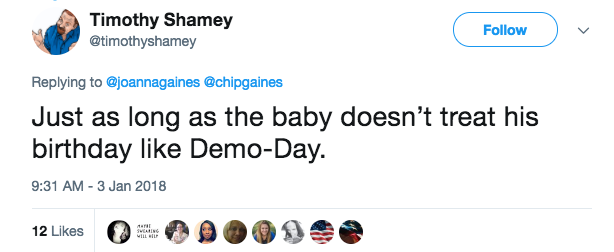 Twitter: @timothyshamey
A lot of 'em.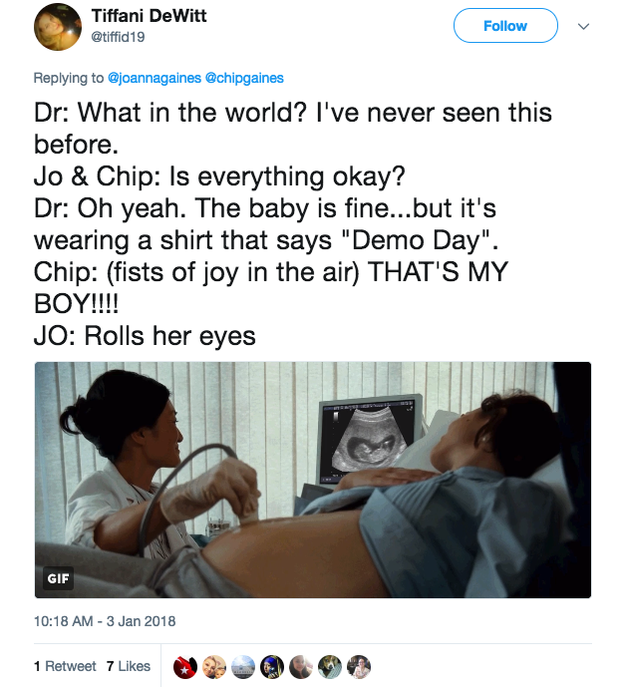 Twitter: @tiffid19
And shiplap humor.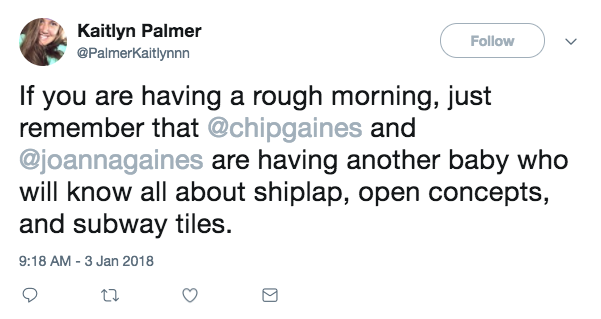 Twitter: @PalmerKaitlynnn
I mean, at the very least:
Twitter: @samsterling42
Congrats, you two!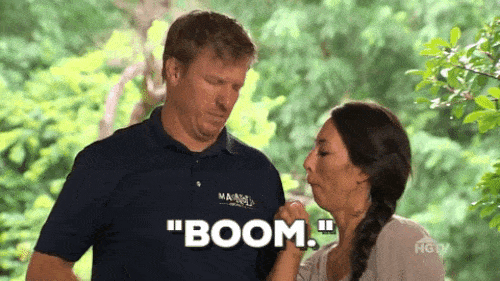 HGTV